Ditch Discolored Fillings for These Newer, Lighter Options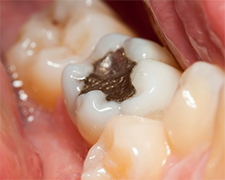 Still flashing a bit of silver when you smile? Cavities can happen to anyone, but the whole world doesn't have to know about them! If you've been living with old, discolored fillings, there's never been a better time to have them replaced.
Find out how new fillings can benefit more than your looks, and about all the options that are now available.
Why Replace Fillings
The cosmetic reasons for replacing amalgam (often referred to as "silver") fillings may be obvious — your smile looks better without the telltale dark spots and any associated feeling of self-consciousness goes away.
What many people don't realize, however, is that there are also health reasons for getting new fillings. While it can be easy to forget about cavities once they're filled, the truth is that oral health threats can re-emerge as fillings weaken over time. Constant grinding and chewing will wear down any filling, and it often only takes one particularly hard or sticky food to dislodge or crack it.
Once the protective barrier to a cavity has been lost or broken, harmful bacteria can easily seep in and continue to eat away at the tooth. In many cases — especially those where the seal has been damaged but has not completely fallen out — tooth decay under or around the filling may easily escape notice until it reaches the point where a root canal or an extraction is necessary. Being diligent about dental visits and proactive about replacing fillings can help you avoid the unnecessary pain and expense of a tooth infection.
Replacement Options
The good news about getting rid of old fillings is that amalgam is no longer your only choice. As hardy and durable as this traditional mixture of silver, mercury and other metal alloys is, it has become virtually obsolete due to more discrete options such as:
Composite Fillings: tooth-colored bondings primarily used for the front teeth
Veneers: thin, porcelain, non-staining shells affixed to the front surface of teeth
Crowns: complete covering for damaged teeth that a filling alone cannot repair
Inlays or Onlays: custom composite used to replace larger fillings in molars
Your dentist may recommend one particular treatment or a varied approach, depending on the number and type of fillings needed. Rest assured, however, that the choices at your disposal lend themselves to a more natural look than that of an amalgam filling.
Caring for Teeth with Fillings
Regardless of which replacement option you choose, a little extra care and attention can go a long way in protecting your investment. To extend the life of a newly restored tooth, consider making these changes to your everyday routine:
Brush and floss regularly to keep the tooth's surface clear of tough buildup
Use a mouth guard at night to avoid unnecessary pressure if tooth grinding is a habit
Steer clear of overly hard or sticky foods that can damage the restored tooth
See a dentist if you notice a bad taste or dull pain that can indicate a defect or decay
Regular dentist visits can further minimize the risk of damaged filings — and help prevent the need for new ones. For questions about replacing and/or maintaining fillings, schedule an appointment with your dentist.
---
Sources:
Carr, A. (2014, February 8). Cavaties/Tooth Decay. Retrieved June 1, 2015 from http://www.mayoclinic.org/diseases-conditions/cavities/expert-answers/dental-fillings/faq-20058381