Cheektowaga Family and Cosmetic Dentist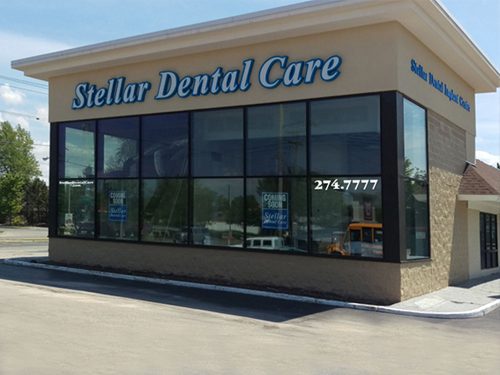 Premium Dentistry in Cheektowaga, New York
Cheektowaga residents have been trusting Stellar Dental Care for their dental needs for over 10 years. Our accomplished team of Cheektowaga dentists are proud to offer an array of dental services to meet the unique needs of each and every patient who walks through our doors. From cosmetic dentistry to family dentistry, we have the experience and expertise to provide high-quality care for every member of your family. In addition, our emergency dental services are available to ensure that you always have access to the care you need, when you need it. If you're looking for an orthodontist in Cheektowaga, NY, look no further than Stellar Dental Care. Our state-of-the-art facility is equipped with the latest technology and techniques to provide you with the stellar smile you deserve. Schedule a consultation with us today to see how we can help you achieve your dental goals.
Union Road Office:
Near Galleria Mall
3557 Union Road
Cheektowaga, NY 14225
Telephone: 716.651.0099
Fax: 716.395.0930
Office Hours:
Mon: 8:30 am – 5 pm
Tue: 8:30 am – 6:30 pm
Wed: 8:30 am – 5 pm
Thurs: 8:30 am – 5 pm
Friday: 8:30 am – 5 pm
Saturday: 8:30 am – 1:30 pm *by appointment only
Sunday: Closed
Cheektowaga Family Dental Care is a state-of-the-art dental practice in Cheektowaga, New York. Our team of experienced dentists is dedicated to providing services that can help every patient in achieving a lifetime of pristine dental health. We offer flexible appointment availability to fit into everyone's busy schedule. Our practice offers evening and weekend appointments (open every other Saturday). Stellar Dental Care in Cheektowaga is committed to providing the highest quality of dental care possible. We utilize the latest technology and techniques to provide our patients with the best possible experience. The Team at Stellar Dental Care in Cheektowaga is proud to be your partner in achieving optimal oral health!
At Stellar Dental Care, we are proud to offer our patients a wide range of dental implant options. Whether you need to replace a single tooth or an entire arch, we are confident that we can provide you with the care you need. Our dental implants are made from high-quality materials and are designed to last for many years. We also offer a variety of financing options to help make your treatment affordable. If you live in Cheektowaga or the surrounding area of New York, we invite you to contact our office today to schedule a consultation. We look forward to meeting you and helping you achieve your optimum oral health.
At Stellar Dental, we understand that going to the dentist can be a scary experience for kids. That's why we've taken extra steps to make our kid dental center as stress-free and comfortable as possible. From the brightly colored walls to the friendly staff, your kids will love coming to Stellar Dental. We offer a wide range of services specifically designed for kids, including routine checkups, teeth cleanings, and fluoride treatments. We also offer Cosmetic Dentistry services such as teeth whitening. Our locations in Cheektowaga and West Seneca are convenient for families all over Western New York. Our Stellar Kids Dental Center is located on Union Road. Call us today to schedule an appointment for your child!
At Stellar Dental Care, we want you to have the best smile possible. That's why we offer in-office teeth whitening with Zoom! Whitening. Zoom! is the safest and most effective way to whiten your teeth, and it can lighten your teeth up to eight shades in just one 45-minute visit. Plus, there's little to no sensitivity with Zoom!, so you can get the bright, white smile you've always wanted with no discomfort. Contact one of our Cheektowaga, New York dentists today to learn more about how to get that whiter smile. We look forward to helping you achieve your best dental health!
Expecting mothers often have a lot on their minds and taking care of their dental health can sometimes fall by the wayside. However, it is important to maintain good dental hygiene even while pregnant. Cheektowaga New York's maternity dental care professionals at Stellar Dental Care can help expecting mothers resolve any pregnancy-related dental issues they might be facing. Our team of expert dentists can provide routine checkups and cleanings that are safe for both mother and child. We understand that pregnancy can be a stressful time, but we are here to help make taking care of your teeth one less thing you have to worry about. Give us a call today to schedule a consultation.
Contact Stellar Dental for Cheektowaga Family Dentistry Today
At Stellar Dental, our team of dentists strive to help every patient achieve a lifetime of pristine dental health. We provide numerous dental services that can benefit you and your entire family.
If you are in need of a general or family dentist in Cheektowaga, New York, contact us today to learn more about what we do or to schedule an appointment. We look forward to speaking with you!