Family Dentist in Tonawanda- Stellar Dental Care:
Your Advanced Partner in Dental Health
Family Dentist in Tonawanda- Stellar Dental Care: Your Trusted Partner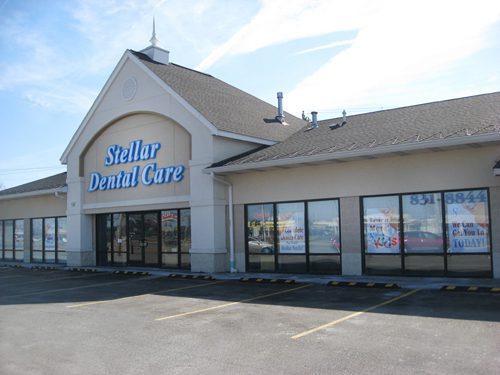 At Stellar Dental Care, we understand that oral health is not just about treatments; it's about building relationships. Our friendly and knowledgeable staff is committed to creating a comfortable and welcoming environment for every patient, from kids to seniors. With our focus on patient-centered care, we aim to be more than just a dental clinic; we want to be your trusted partner on your journey to optimal oral health.
At Stellar Dental, we recognize the significance of your smile, especially as your trusted family dentist in Tonawanda. This is why we're proud to provide a comprehensive range of dental services, catering to everything from essential teeth cleanings to intricate Cosmetic Dentistry procedures. Irrespective of your dental requirements, our dedicated team is committed to ensuring your complete satisfaction with your treatment.
With two convenient locations in Cheektowaga and West Seneca, New York, we also accept most major insurance plans, making quality dental care accessible. Don't delay any longer—reach out to us today and take a step closer to achieving that perfect smile you've always wanted!
When it comes to your family's dental health, finding a trustworthy and skilled dentist is essential. At Stellar Dental Care, we take pride in being your go-to family dentist in Tonawanda. With our comprehensive range of dental services and experienced team, we are dedicated to ensuring your family's oral health and bright smiles. Whether it's routine check-ups, preventive care, or advanced treatments, we've got you covered.
Sheridan Drive Office:
Near Boulevard Mall
2929 Sheridan Drive
Tonawanda, NY 14150
Telephone: 716.831.8844
Fax: 716.834.2073
Office Hours:
Mon: 8:30 am – 6:30 pm
Tue: 8:30 am – 5 pm
Wed: 8:30 am – 5 pm
Thurs: 8:30 am – 5 pm
Friday: 8:30 am – 5 pm
Saturday: 8:30 am – 1:30 pm *by appointment only
Sunday: Closed
Comprehensive Check-Ups and Cleanings
Regular dental check-ups are the foundation of a healthy smile. Our skilled dentists conduct thorough examinations to detect any issues early on. With professional cleanings, we ensure your teeth remain free from plaque and tartar buildup, promoting oral hygiene and preventing potential problems.
Stellar Kids-Family-Friendly Atmosphere
At Stellar Dental, we fully comprehend that youngsters may harbor concerns about visiting the dentist, which is precisely why we're dedicated to fostering a delightful and warm atmosphere, specifically as your go-to family dentist in Tonawanda. We go the extra mile to establish an environment that exudes fun and friendliness, designed to alleviate any apprehensions your kids might have. From our vibrant and lively decor to our affable staff, our efforts are focused on ensuring that every visit to our office is a positive and enjoyable experience for your children.
In addition to this, we offer both private and open concept rooms, giving your kids the liberty to select the setting that best suits their comfort during appointments. Situated in Tonawanda, New York, we take pride in serving families not only in Tonawanda but also in Amherst, New York. To delve deeper into the array of pediatric dental care services we offer, don't hesitate to reach out to us today. We eagerly anticipate the opportunity to welcome you and your family into our practice!
Prevention is key to maintaining good oral health. Our range of preventive treatments includes fluoride applications and dental sealants, which help protect teeth from cavities and decay. These treatments are especially beneficial for children's developing teeth.
From fillings to crowns, our restorative dental services are designed to bring back your smile's functionality and aesthetics. Our skilled dentists use high-quality materials and advanced techniques to restore teeth that have been affected by decay or damage.
Dental emergencies can happen at any time. Our clinic is prepared to handle urgent situations, providing prompt and effective care when you need it the most. Don't hesitate to reach out to us if you're experiencing a dental emergency.
We believe that knowledge is key to maintaining good oral health. Our team is dedicated to educating patients about proper oral hygiene practices, diet choices, and lifestyle habits that can contribute to healthier smiles.
FAQs About Family Dentist in Tonawanda- Stellar Dental Care
How often should my family and I visit the dentist?
Regular dental check-ups are recommended every six months for both adults and children. However, if you have specific dental issues, your dentist might recommend more frequent visits.
What can I expect during a routine dental check-up?
During a routine check-up, your dentist will examine your teeth, gums, and mouth for any signs of issues. X-rays might be taken to identify hidden problems. Professional cleaning will remove plaque and tartar buildup.
Are cosmetic procedures only for aesthetic purposes?
While cosmetic procedures like teeth whitening and veneers enhance the appearance of your smile, they can also improve dental health. For instance, repairing chipped teeth with veneers can prevent further damage.
At what age should my child start seeing a family dentist?
It's recommended to take your child for their first dental visit by their first birthday or when their first tooth appears. Early visits help in monitoring oral development and establishing a positive dental routine.
What if I experience a severe toothache outside of office hours?
If you're facing a dental emergency like a severe toothache, contact our emergency dental care line immediately. We're here to provide prompt assistance and relief, even during off-hours.
Can orthodontic treatment be effective for adults?
Yes, orthodontic treatments are effective for adults as well. In fact, more adults are opting for treatments like Invisalign to discreetly achieve a straighter smile.
Looking for a reliable Family Dentist in Tonawanda? Look no further than our practice. As your dedicated Family Dentist in Tonawanda, we are committed to providing top-notch dental care for your entire family. Our experienced team of dentists and staff is here to ensure that each member of your family receives the personalized attention and quality treatment they deserve.
Whether it's routine check-ups, preventive care, or addressing specific dental concerns, our Family Dentist in Tonawanda is equipped to meet all your dental needs. With a warm and welcoming atmosphere, we strive to make every visit to our clinic a positive and comfortable experience. When you choose us as your Family Dentist in Tonawanda, you're choosing comprehensive care and a partner in maintaining your family's oral health.
Need a Family Dentist in Tonawanda? Contact Our Office Today!
Your family's oral health is our priority at Stellar Dental Care. Our dedicated team of skilled dentists is committed to providing top-notch dental care in a comfortable and friendly environment. From preventive treatments to restorative solutions, we offer a comprehensive range of services to meet your family's unique dental needs. Schedule your appointment today and experience the difference of having a reliable family dentist in Tonawanda by your side.Our experienced team of Tonawanda dentists has the skill and knowledge for all your dental needs, from cosmetic dental services to finding the right family dentist for your home. Schedule an appointment at our Sheridan Drive office today to see how we are the resource center for your stellar smile!