Williamsville Family and Cosmetic Dentist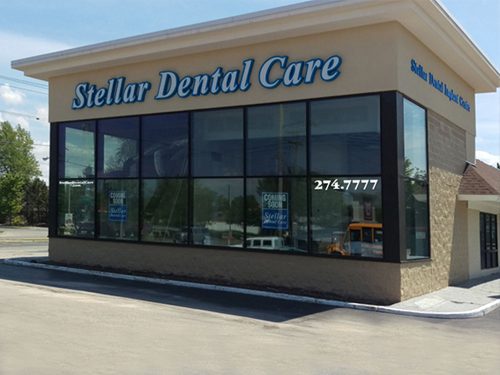 Family Dentist in Williamsville, New York
At Stellar Dental, we are committed to helping every patient in achieving a lifetime of dental health. Our team of experienced dentists offers the highest level of quality care with every teeth cleaning or procedure. If you are looking for a family dentist in the Williamsville area, we offer a variety of services for you and your family.
Whether you are in need of a cosmetic dentist, an emergency dentist, an orthodontist, or general dentistry for Williamsville, we can help you with all of your dental needs.
Transit Road Office:
Near Eastern Hills Mall
7500 Transit Road
Williamsville, NY 14221
Telephone: 716.632.5555
Fax: 716.632.9824
Office Hours:
Mon: 8:30 am – 5 pm
Tue: 8:30 am – 5 pm
Wed: 8:30 am – 5 pm
Thurs: 8:30 am – 6:30 pm
Friday: Closed
Saturday: 8:30 am – 1:30 pm *by appointment only
Sunday: Closed
Williamsville, New York is home to the outstanding dental practice of Stellar Dental Care. The dental team is proud to offer a comprehensive range of services to patients of all ages, from general dentistry and emergency care to pediatric dentistry and cosmetic procedures. Williamsville is a historic village in Erie County, located just east of Buffalo. With a commitment to excellence in everything they do, Stellar Dental Care is dedicated to providing their patients with the highest quality of care possible. Whether you're in need of a routine cleaning or a more complex procedure, you can be confident that you're in expert hands at Stellar Dental Care. Schedule an appointment today and see for yourself why they're the premier dental provider in Williamsville!
Williamsville, New York's Stellar Dental Care offers high-quality dental implants to those who have lost teeth. Dental implants are versatile and can be used to replace a single tooth or multiple teeth. They can also be used to restore an entire arch of teeth. The dental implants we offer are made of high-quality materials that are built to last. We are confident in the work we do and offer a Lifetime Guarantee on all of our dental implants. Schedule a consultation with us today to see if dental implants are right for you.
Williamsville, New York's Stellar Dental Care is the perfect place to take your child for pediatric dentistry. Our team loves working with children and offers brightly colored and kid-friendly private rooms or open concept areas that enable your child to be in the company of others. We strive to make your child's appointment as easy and fear-free as possible. Our Williamsville location is just a short drive from Buffalo and Niagara Falls, making it convenient for families in Western New York. If you're looking for quality pediatric dental care, look no further than Stellar Dental Care.
Williamsville, New York's Stellar Dental Care offers in-office whitening systems that can whiten teeth up to 8 shades in one 45-minute visit. Zoom! Whitening is a professional dental whitening system that is performed by licensed dental professionals. This teeth whitening system has little to no sensitivity and can achieve outstanding results. If you are interested in teeth whitening and live in the Williamsville, New York area, reach out to Stellar Dental Care today to learn more about how you can achieve a brighter smile.
At Stellar Dental Care, we believe in the power of comfort and aesthetics. Our friendly team understands the importance of natural-looking dentures that seamlessly enhance your smile. Imagine the convenience of dentures that can be effortlessly removed and reinserted as per your needs.
But it doesn't stop there – our dentures also play a crucial role in ensuring the stability of your teeth while you savor your favorite meals. No more worrying about discomfort during meals; our modern dentures are designed to provide both security and confidence.
Contact Stellar Dental Care Today
Our dental practice offers a number of dental services to help you maintain exceptional oral health. Whether you are seeking a cosmetic dentist, family dentist, or a routine dental check-up, Stellar Dental Care is the best choice for you. Reach out to our professional team of Williamsville, New York dentists to schedule an appointment today!